| | |
| --- | --- |
| | KidCadCrowns® 2.0' material |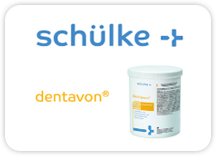 The dental crowns are manufactured from industrially polymerize thermoplastic PMMA. The composite-crowns' degree of hardening correlates with that of natural dental enamel.
Each crown material has its own special characteristics and which is why has to be treated accordingly during implantation.
KidCadCrowns® do not have feather edge margins and therefore cannot be implanted in a way that leaves the crowns' walls exposed to pressure. Just like inlays and partial crowns that are manufactured from ceramics or composite, the KidCadCrowns® 2.0 establish their final stability after the cements' curing process has concluded.

The material is not autoclavable | consequently every suitable NON-ALCOHOLIC disinfectant (based on quaternary ammonium salts) is usable for cleaning and sterilizing.

Do you need any further information? Feel free to talk to us | we will be happy to assist you!
The all-in-one-concept
This concept forgoes corroding and dental bonding, because it is compiled out of industrially polymerize thermoplastic PMMA as well as dual-hardening luting agent. After the dental crown is implanted and the cement is hardened, there is the possibility of thinning the crown wall in order for the cement to manifest its stability. Even the subsequent application within the mouth, also for the deciduous teeth, the first molar and the canines, is feasible and unproblematic.

---
Technical specifications KidCadCrowns®
(

acrylic polymer

)
Composition:

> 78 % PMMA
20 % inorganic bulking agent
< 2 % inorganic pigments

Vickers hardness:

HV: 196 MPa
modulus of rupture: 72 MPa
modulus of elasticity: 3050 MPa
water solubility: 1,6 μg/mm³
residual monomer: < 1,0 %